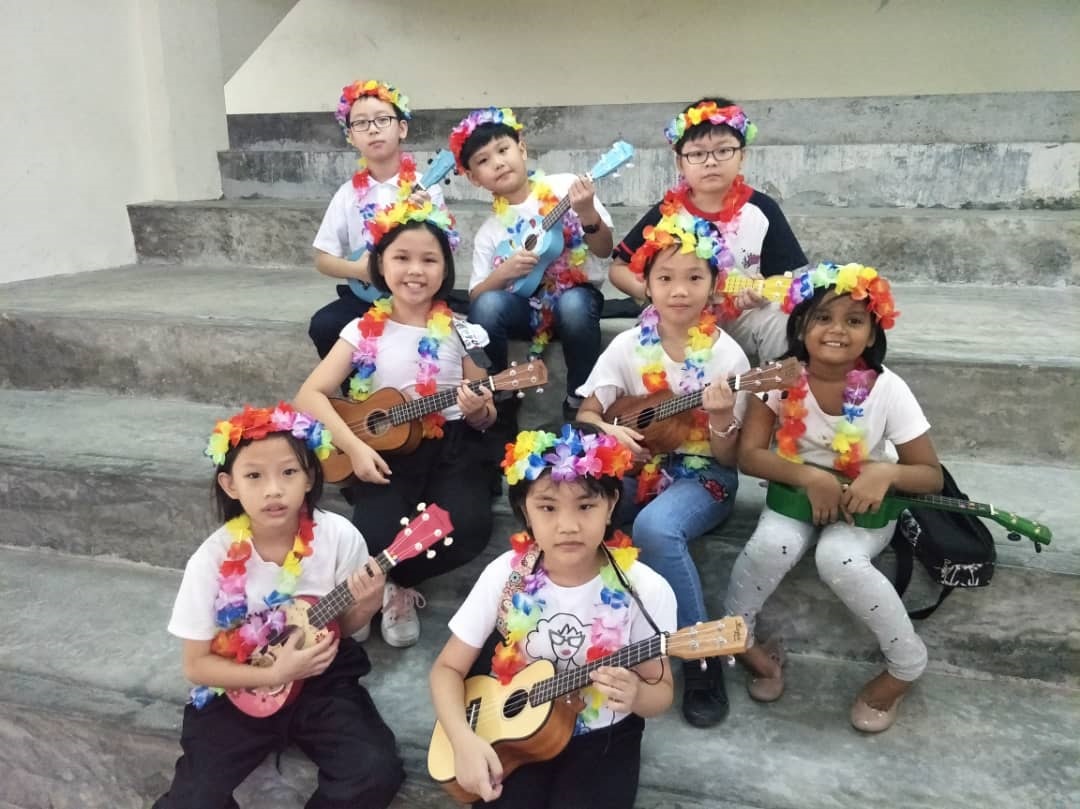 Ukubear Ukulele Music Day in Ping Ming School, Lima Kedai, Johor Bahru
Ukubear introduces ukulele culture in primary school and kindergarten. Thus, children will perform their ukulele skills and perform in their own school to show their friends their learning efforts & hard work. This is to discover the music talents of the children from the young. Some children are experiencing the ukulele for the first time. Letting Children dress up with Hawaiian wreaths, while learning and experiencing Hawaiian culture.
Ukulele is an instrument full of Haiwaiian culture symbols. According to the studies,
Ukulele music is said to derive from a small Madeiran lute that was imported by Portuguese musicians to Hawai'i and there transformed into a very popular string instrument.
Why is the ukulele the best starter instrument for the children?
1. Smaller size
In fact, the ukulele's fingerboard is much smaller than the guitar's, making it easier to play for children and students with small hands. The size and smaller string also make it easier to chord and to strum than the guitar.
2. Soft Strings
Many chords are surprisingly easy to finger, resulting in rapid success for the children. The strings are soft enough to prevent the blistering or irritation that often occurs when novices begin the guitar.
3. Easier Playing
By using the open-string tuning in C major rather than the standard D-major tuning, it makes it easier to play the primary chords and pluck tunes for many traditional and folk songs, often using only the bottom three strings. The fingering is similar to that used for playing the bottom four strings of the guitar and prepares students for the guitar.
4. Low Cost
Ukulele is an ideal melodic-harmonic-rhythmic, low-cost instrument suitable for all general music programs for children.
Parents are encouraged to nurture the children by building children's interests such as ukulele music. Ukubear Ukulele is opening a limited FREE Ukulele class for children now. The online ukulele children class Johor Bahru is also available now. Complete the registration of Ukubear ukulele class below:-
Ukubear Ukulele Ping Ming, Ukubear Ukulele Lima Kedai, Ukubear Ukulele Johor Bahru, Ukubear Ukulele Skudai, Ukubear Ukulele Perling, Ukubear Ukulele Mutiara Rini, Ukubear Ukulele Medini Kota Iskandar, Ukubear Ukulele Medini Iskandar, Ukubear Ukulele Iskandar Puteri, Ukubear Ukulele Nusajaya, Ukubear Ukulele Bukit Indah, Ukubear Ukulele Molek, Ukubear Ukulele Mount Austin, Ukubear Ukulele Setia Indah, Ukubear Ukulele Masai, Ukubear Ukulele Setia Tropika