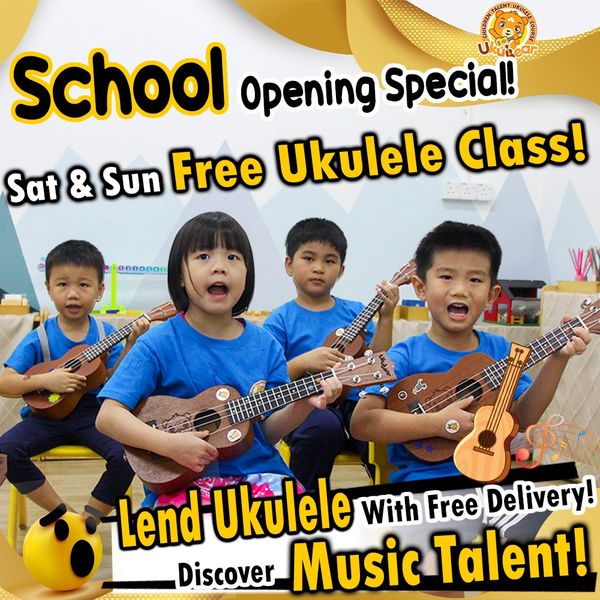 Ukubear School Opening Ukulele Class Special
Schools are opening & your kids are bored at home on the weekend? Still don't have any activities for your children? Are they spending too much time on the TV? You can let your child try 𝐒𝐚𝐭 & 𝐒𝐮𝐧 𝐅𝐫𝐞𝐞 𝐂𝐥𝐚𝐬𝐬! We even 𝐥𝐞𝐧𝐝 𝐚 𝐮𝐤𝐮𝐥𝐞𝐥𝐞 directly to your doorstep for free! 
Exciting weekend awaits them! Sat & Sun 𝐔𝐤𝐮𝐥𝐞𝐥𝐞 Free Class is here! Hurry and join us!
🟥 Register before 𝟏𝟕𝐭𝐡 𝐀𝐩𝐫𝐢𝐥! 
Why Ukubear Ukulele Program is so special ⁉️
⭐ Even 𝟰 𝗬𝗲𝗮𝗿𝘀 𝗢𝗹𝗱 𝗖𝗮𝗻 𝗟𝗲𝗮𝗿𝗻 𝗘𝗮𝘀𝗶𝗹𝘆, 𝗧𝗮𝗶𝗹𝗼𝗿𝗲𝗱 𝗙𝗼𝗿 𝟰-𝟭𝟮 Years Old Children.
⭐ Discover children music talent and interest
⭐ 𝐅𝐫𝐞𝐞 𝐋𝐞𝐧𝐝 𝐔𝐤𝐮𝐥𝐞𝐥𝐞 𝐈𝐧𝐬𝐭𝐫𝐮𝐦𝐞𝐧𝐭 𝐢𝐧 1 week free class
Learning Ukulele is an amazing way for the kids to spend their free time! Not only can they build a healthy hobby, it will also help them to develop healthy character such as 𝐩𝐞𝐫𝐬𝐞𝐯𝐞𝐫𝐚𝐧𝐜𝐞 & 𝐝𝐢𝐬𝐜𝐢𝐩𝐥𝐢𝐧𝐞  through learning music! It will help them develop personalities that overcome other challenges in life too!
Why over 10000 parents registered for our trial class?
𝟭𝟬𝟬% 𝗣𝗿𝗼𝗳𝗲𝘀𝘀𝗶𝗼𝗻𝗮𝗹 Online Learning & 𝗜𝗻𝘁𝗲𝗿𝗮𝘁𝗶𝘃𝗲 𝗠𝘂𝗹𝘁𝗶𝗺𝗲𝗱𝗶𝗮.
Recognition By 𝗠𝗶𝗻𝗶𝘀𝘁𝗿𝘆 𝗢𝗳 𝗘𝗱𝘂𝗰𝗮𝘁𝗶𝗼𝗻 𝗠𝗮𝗹𝗮𝘆𝘀𝗶𝗮 – Help Future University Application!
Start to learn to play their first song after 1 week!
Why over 19850 parents in Malaysia 🇲🇾 choose to enroll in Ukubear Ukulele Course? Because it is very cost friendly with low kick-start commitment! So you don't have to worry about huge wastage if your child doesn't end up committing to the course!
Collaborate with London College, International Certification.
More than 19540 Children Registration, World largest Music Lesson (Ukulele) Awarded by Guinness World Records.
Sat or Sun 𝐔𝐤𝐮𝐥𝐞𝐥𝐞 𝐂𝐥𝐚𝐬𝐬 + 𝐋𝐞𝐧𝐝 𝐔𝐤𝐮𝐥𝐞𝐥𝐞 𝐰𝐢𝐭𝐡 𝐅𝐫𝐞𝐞 𝐃𝐞𝐥𝐢𝐯𝐞𝐫𝐲
Slots are limited, only open for March & April School Opening, Hurry up and click on the button below to enquiries and register! Hurry up, we even lend ukulele with free delivery!
Ukubear Ukulele Johor Bahru , Ukubear Ukulele Penang , Ukubear Ukulele Cheras , Ukubear Ukulele Kepong , Ukubear Ukulele Subang , Ukubear Ukulele Puchong , Ukubear Ukulele Batu Caves , Ukubear Ukulele Klang , Ukubear Ukulele Bangsar , Ukubear Ukulele Ampang , Ukubear Ukulele Kajang , Ukubear Ukulele Alor Setar , Ukubear Ukulele Sungai Petani , Ukubear Ukulele Bukit Raja , Ukubear Ukulele Putrajaya , Ukubear Ukulele Shah Alam , Ukubear Ukulele Sentul , Ukubear Ukulele Melaka , Ukubear Ukulele Petaling Jaya , Ukubear Ukulele Seri Kembangan , Ukubear Ukulele Rawang , Ukubear Ukulele Bukit Beruntung , Ukubear Ukulele Perlis , Ukubear Ukulele Mersing , Ukubear Ukulele Kota Tinggi , Ukubear Ukulele Pasir Gudang , Ukubear Ukulele Kulai , Ukubear Ukulele Negeri Sembilan , Ukubear Ukulele Semenyih , Ukubear Ukulele Pontian , Ukubear Ukulele Pekan Nanas , Ukubear Ukulele Labis , Ukubear Ukulele Bandar Baru Bangi , Ukubear Ukulele Teluk , Ukubear Ukulele Taiping , Ukubear Ukulele Jitra , Ukubear Ukulele Kedah