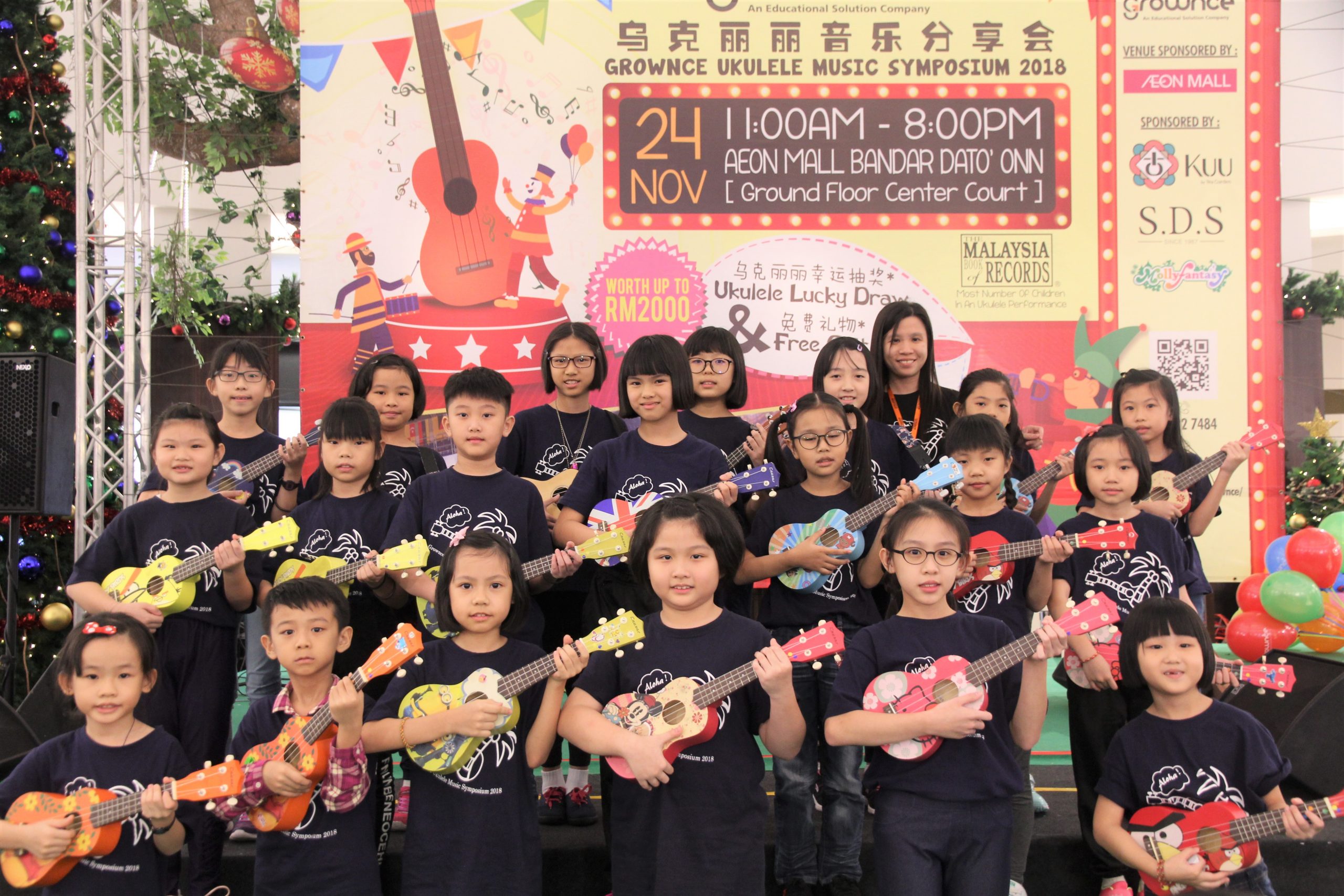 Ukubear Music Symposium in Aeon Bandar Dato Onn, Johor Bahru
Ukubear organises a variety of student activities such as music day, children performance as well as the music symposium yearly. Children are able to represent their school to perform on stage and most importantly show their parents' whole year learning result. Through this event, children able to increase their stage experience, conquer stage fear and able to increase confidence.
How does ukulele music learning benefit children?
1. Children contretration on learning
Ukulele is a crucial ingredient for all children's development. Playing and Listening to music helps to increase concentration. Learning a ukulele will help a child to develop concentration, as the child has to focus on a particular activity over extended periods of time. This will also help children to focus on other subjects at school in a period of time. This is because the children find the fun in learning new skills and knowledge.
2. Children Creativity
Ukulele students learn to think creatively and to solve problems by imagining various solutions and rejecting outdated rules and assumptions. They try new things, explore new concepts and go in different directions in search of something new. They try doing different things and use lateral thinking while doing so. For example, ukulele students are seen mixing two prevalent music styles and making some new styles.
3. Motor & Reasoning Skill
Children who have three years or more ukulele learning performed better in reasoning and motor skills. They also tested better on reasoning skills, which involved understanding and analysing visual information, such as identifying relationships, similarities and differences between shapes and patterns.
Parents are encouraged to nurture the children by building children's interests such as ukulele music. Ukubear Ukulele is opening a limited FREE Ukulele class for children now. The online ukulele children class Johor Bahru is also available now. Complete the registration of Ukubear ukulele class below:-
Ukubear Ukulele Bandar Dato Onn, Ukubear Ukulele Johor Bahru, Ukubear Ukulele Skudai, Ukubear Ukulele Perling, Ukubear Ukulele Mutiara Rini, Ukubear Ukulele Medini Kota Iskandar, Ukubear Ukulele Medini Iskandar, Ukubear Ukulele Iskandar Puteri, Ukubear Ukulele Nusajaya, Ukubear Ukulele Bukit Indah, Ukubear Ukulele Molek, Ukubear Ukulele Mount Austin, Ukubear Ukulele Setia Indah, Ukubear Ukulele Masai, Ukubear Ukulele Setia Tropika