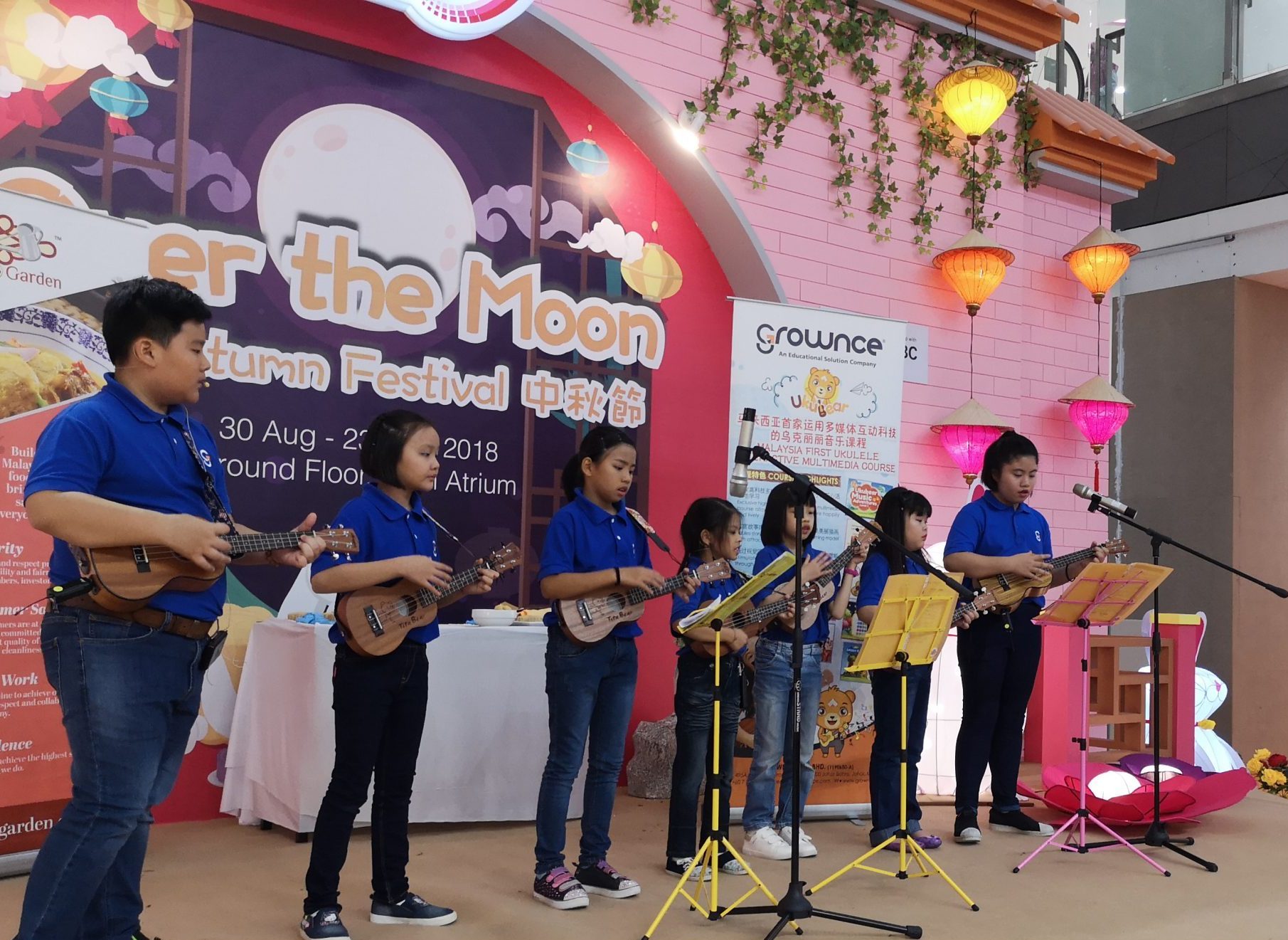 Mid Autumn Festival Performance in Paradigm Mall Johor Bahru
In September 2018, Ukubear ukulele students are invited to have Mid Autumn ukulele performance on stage to celebrate the Mid Autumn Festival with the Johoreans. The event builds children's confidence level and social skills when they are performing in front of people in the shopping mall. All of the children come from Ukubear children class Johor Bahru. They are participating Ukubear kids program Johor Bahru. Ukubear Malaysia organises a variety of student activities such as Music Day, Summer Camp and Festival Performance.
The importance of the ukulele children activity is to:-
1. Build Positive Emotions Toward Performing
Academic achievement outcomes in music learning and performance should not be directed toward decreasing the degree of children's emotion. In fact, children will enjoy and have all the fun when learning and performing ukulele music.
2. Social Skills Development During Ukulele Performance
Academic success does not just derive from higher test scores. There are several other goals needed to be attained, such as the development of morality. Children who are actively involved in ukulele learning and performance are more likely to become professionally successful, as music is a unique way of learning and greatly helps in the development of social skills. Ukulele music has the ability to foster children's creativity.
3. Memory Improvement During Ukulele Performance
Children have the opportunity to learn how to become more patient, which is a very critical skill to master. And the ukulele course and performance is helping them with improved memory and achieving higher academic successes. This is because the children are trained to be more focused in learning and listening.
Parents are encouraged to nurture the children by building children's interests such as ukulele music. Ukubear Ukulele is opening a limited FREE Ukulele class for children now. The online ukulele children class Johor Bahru is also available now. Complete the registration of Ukubear ukulele class below:-
Ukubear Ukulele Johor Bahru, Ukubear Ukulele Perling, Ukubear Ukulele Skudai, Ukubear Ukulele Mutiara Rini, Ukubear Ukulele Medini Kota Iskandar, Ukubear Ukulele Medini Iskandar, Ukubear Ukulele Iskandar Puteri, Ukubear Ukulele Nusajaya, Ukubear Ukulele Bukit Indah, Ukubear Ukulele Molek, Ukubear Ukulele Mount Austin, Ukubear Ukulele Setia Indah, Ukubear Ukulele Masai, Ukubear Ukulele Setia Tropika
Ukulele Music Class, Ukulele Music Class near Me, How to Play Ukulele, How to Learn Ukulele, Best Ukulele Lessons for Beginners, Easy Ukulele Lessons for Beginners, Free Online Ukulele, Free Uke Music, Ukulele Music Class in Johor Bahru, Private Ukulele Lessons near Me, Ukulele Classes Online Free, Ukulele Music Free, Ukulele Online Free, Ukulele Online Play, Ukulele Teacher, Ukulele Teacher near Me, Ukulele Class Music, Ukulele Music Program, Ukulele Music Course, Near Music Classes Ukulele, How to Ukulele, How to Play the Ukulele Easy, How to Play Ukulele Chords for Beginners, How to Learn Play Ukulele, How to Begin Playing Ukulele, Free Ukulele Lessons, Ukulele Basic Lessons, Ukulele Classes for Beginners near Me, Ukulele Course, Ukulele for Schools, Ukulele Lessons, Ukulele Tutor near Me, Ukulele Musical Classes near Me, How to Learn Ukulele Chords, Easy How to Play Ukulele, Beginner How to Play Ukulele, Ukulele Music Classes in Kuala Lumpur
best free online ukulele lessons, best free ukulele lessons, best online ukulele classes, best online ukulele course, best online ukulele lessons, best online ukulele lessons for beginners, best online ukulele lessons free, best place to learn ukulele online, best ukulele course online, free uke lessons, free ukulele course, free ukulele lessons for beginners, free ukulele lessons near me
teach yourself ukulele online free, ukulele beginner course,ukulele course free, ukulele course online free, ukulele for beginners free lessons, ukulele free course, ukulele free online lessons, ukulele lessons for beginners online free, ukulele lessons online for free, ukulele lessons online free, ukulele online classes free, ukulele online course free, ukulele online lessons free, near by music class, music classes near by me, course for musicians, music as a course, virtual ukulele lessons, online ukulele classes near me, uke lessons online, best ukulele lessons, free beginner ukulele lessons, online ukulele lessons for beginners, online classes for ukulele,ukulele lessons online best, ukulele for beginners lessons, ukulele virtual lessons, ukulele group class, how much do ukulele lessons cost, group ukulele lessons near me, ukulele group lessons near me, group ukulele lessons, ukulele lessons cost, how much are ukulele lessons, how much do ukulele lessons cost, how to play a ukulele easy, how to start playing ukulele, how to teach yourself ukulele, how to learn how to play ukulele, how do i play the ukulele, how easy to learn ukulele, ukulele how to learn, how to do ukulele chords, how to learn ukulele by yourself, how do you play the ukulele for, beginners, how to learn to play the ukulele for beginners, how to learn to play ukulele for beginners, how do you play a ukulele for beginners, how to use ukulele chords, how to learn ukulele step by step, how to learn a ukulele, how to play the uke for beginners, teach me how to play the ukulele, how to play basic ukulele chords, how to learn the ukulele easy