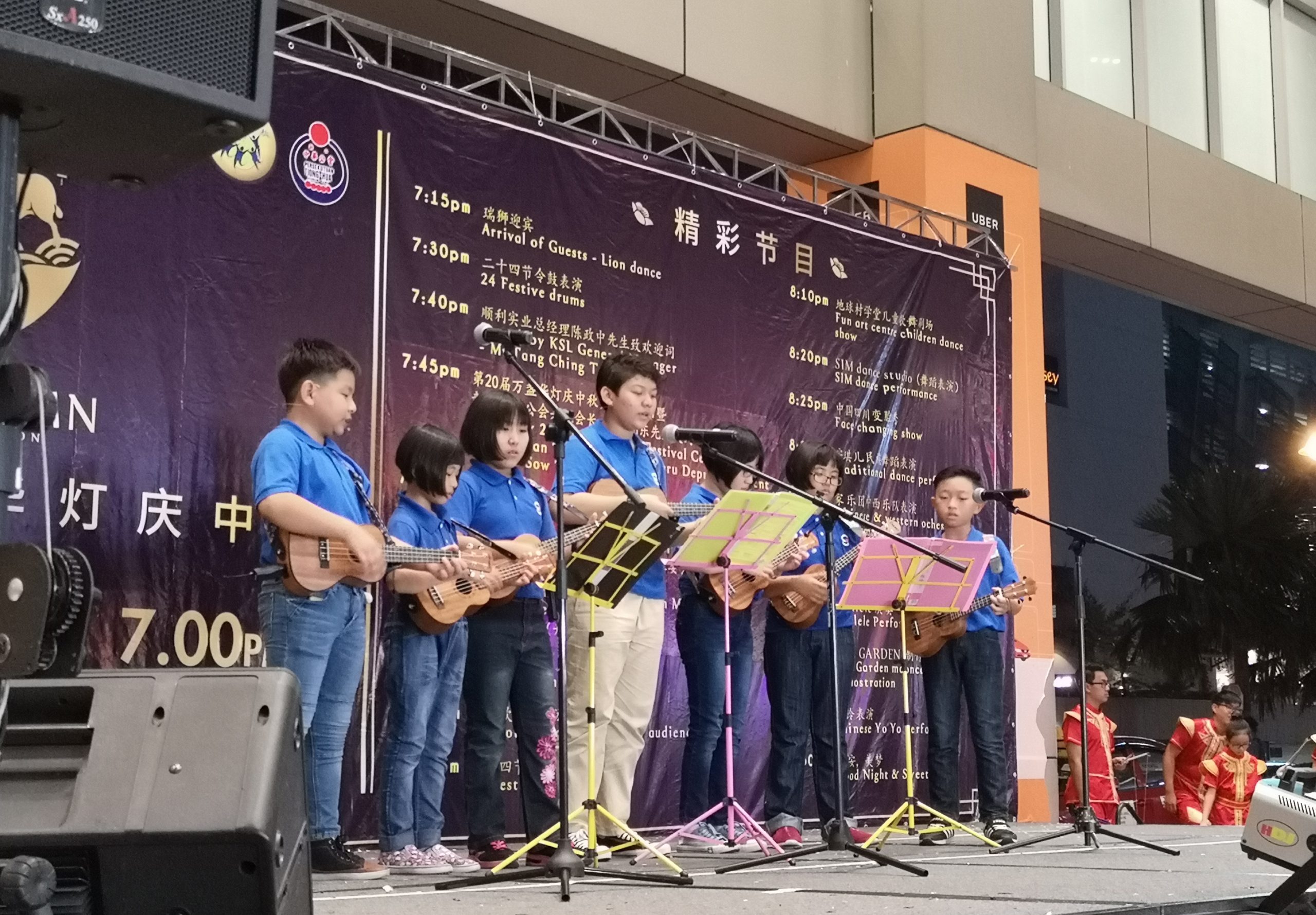 Mid Autumn Festival Performance in KSL City Mall, Johor Bahru
The Mid-Autumn Festival is held on the 15th day of the eighth month in the Han calendar. Chinese celebrate the festival by eating mooncakes and gathering with friends and family. This is an opportunity for children to promote the culture through
the music performance.
Children tend to practise ukulele at home, hence their Ukulele skills will be improved.
Ukubear encourages children to perform on stage in order to 
build up their confidence level
since they are young. A range of research advises children to begin their music learning at an early 
age. Most musicians began learning at a young age and their parents were closely involved with that learning process. They had memorable, close relationships with their music teachers and parents.
Besides, ukulele learning from early childhood 
creates family communication and bonding
. Music is an additional communication tool between the parents and their child. According to the studies with the musicians, most musicians described their childhood in positive terms as they had spent considerable time practising their instrument during early childhood, often with a parent supervising. Ukulele music will enrich children's life.
In a nutshell, parents are encouraged to nurture the children by building children's interests such as ukulele music. Ukubear Ukulele is opening a limited FREE Ukulele class for children now. The online ukulele children class Johor Bahru is also available now. Complete the 
registration of Ukubear ukulele class
below:-
Ukubear Ukulele Johor Bahru, Ukubear Ukulele Perling, Ukubear Ukulele Skudai, Ukubear Ukulele Mutiara Rini, Ukubear Ukulele Medini Kota Iskandar, Ukubear Ukulele Medini Iskandar, Ukubear Ukulele Iskandar Puteri, Ukubear Ukulele Nusajaya, Ukubear Ukulele Bukit Indah, Ukubear Ukulele Molek, Ukubear Ukulele Mount Austin, Ukubear Ukulele Setia Indah, Ukubear Ukulele Masai, Ukubear Ukulele Setia Tropika