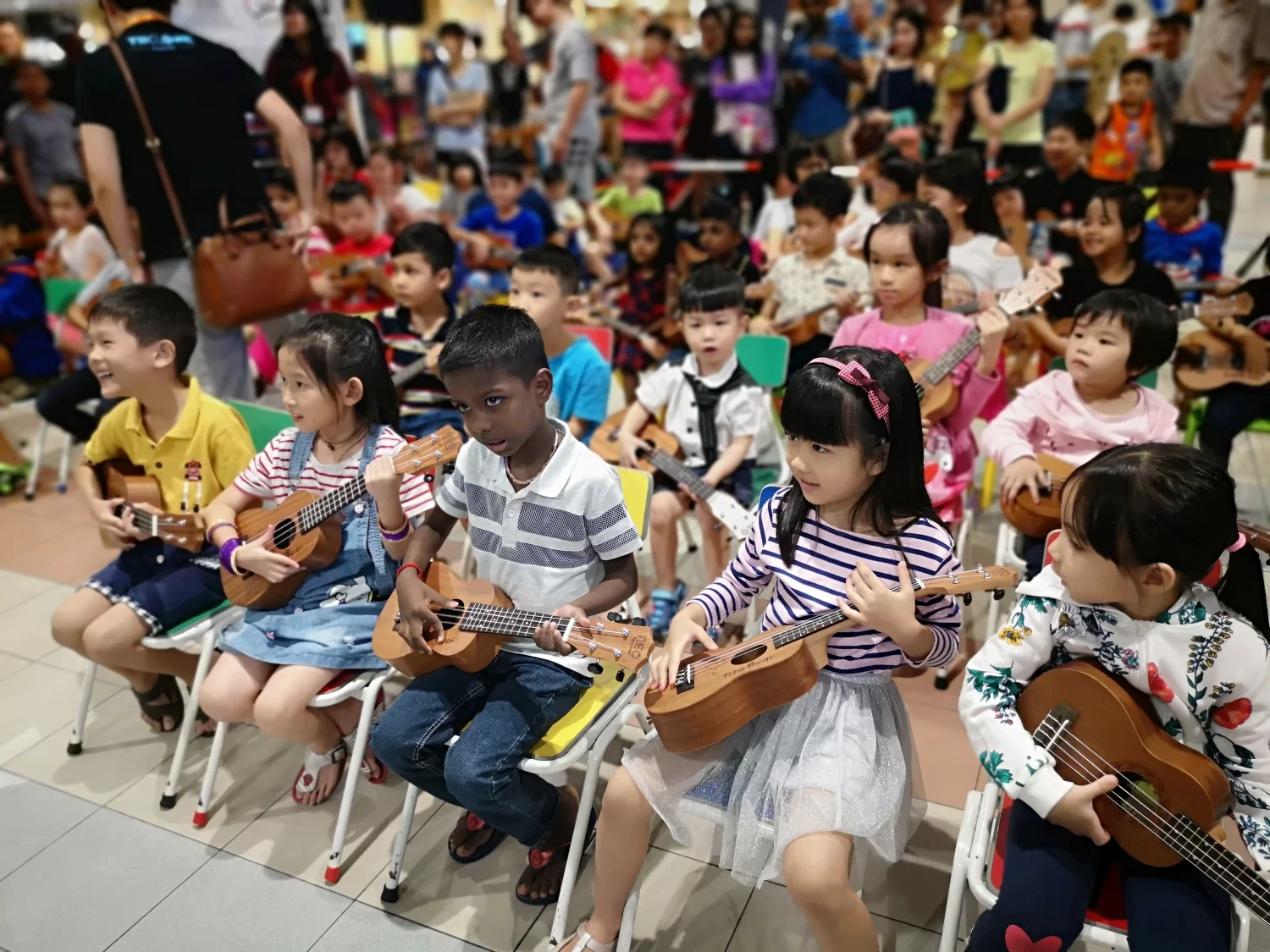 Ipoh Kids Music Day in Kinta City Ipoh, Perak
Ukubear Ukulele promotes the importance of music as part of children's education via organising Kids' Music Day in different states such as Ipoh, Johor Bahru, Kuala Lumpur and Selangor. All of the children are between 4 to 6 years old ( preschool & kindergarten). They are participating in the Ukulele Kids Program Johor Bahru, Ipoh, Kuala Lumpur and Selangor.
The importances of Music Day:
1. Nurturing Children's Interest in Ukulele Music
The involvement of children creates a good impression of Ukulele music in the event. Children and parents are happy, in which children are remembering their performance through the activities of the Music Day. 
2. Cognitive Skills
Children are singing along with their favourite songs on Music day. They are having a lot of fun and build a strong memory power when they play the ukulele. Several studies report that there is an effect of music lessons on cognitive abilities in children. There is a connection to ukulele music lessons with the cognitive abilities such as listening skills, sensorimotor functions, language abilities, etc.
Nowadays, most parents are paying high attention to their children's education. Some children are even joining the international school from preschool age or kindergarten. Parents are willing to pay high tuition fees for children to have international education as well as building children's interest in arts and music.
Parents are welcome to register Ukubear Ukulele Kids Program for their child in Johor Bahru, Kuala Lumpur, Selangor or other location. Online ukulele children class is also opening during the pandemic. Ukubear is now opening a FREE ukulele course. Complete the registration of Ukubear ukulele class below:-
Ukubear Ukulele Ipoh, Ukubear Ukulele Kuala Lumpur, Ukubear Ukulele Selangor, Ukubear Ukulele Penang, Ukubear Ukulele Johor, Ukubear Ukulele Melaka, Ukubear Ukulele Kedah, Ukubear Ukulele Kelantan, Ukubear Ukulele Perak, Ukubear Ukulele Perlis, Ukubear Ukulele Negeri Sembilan