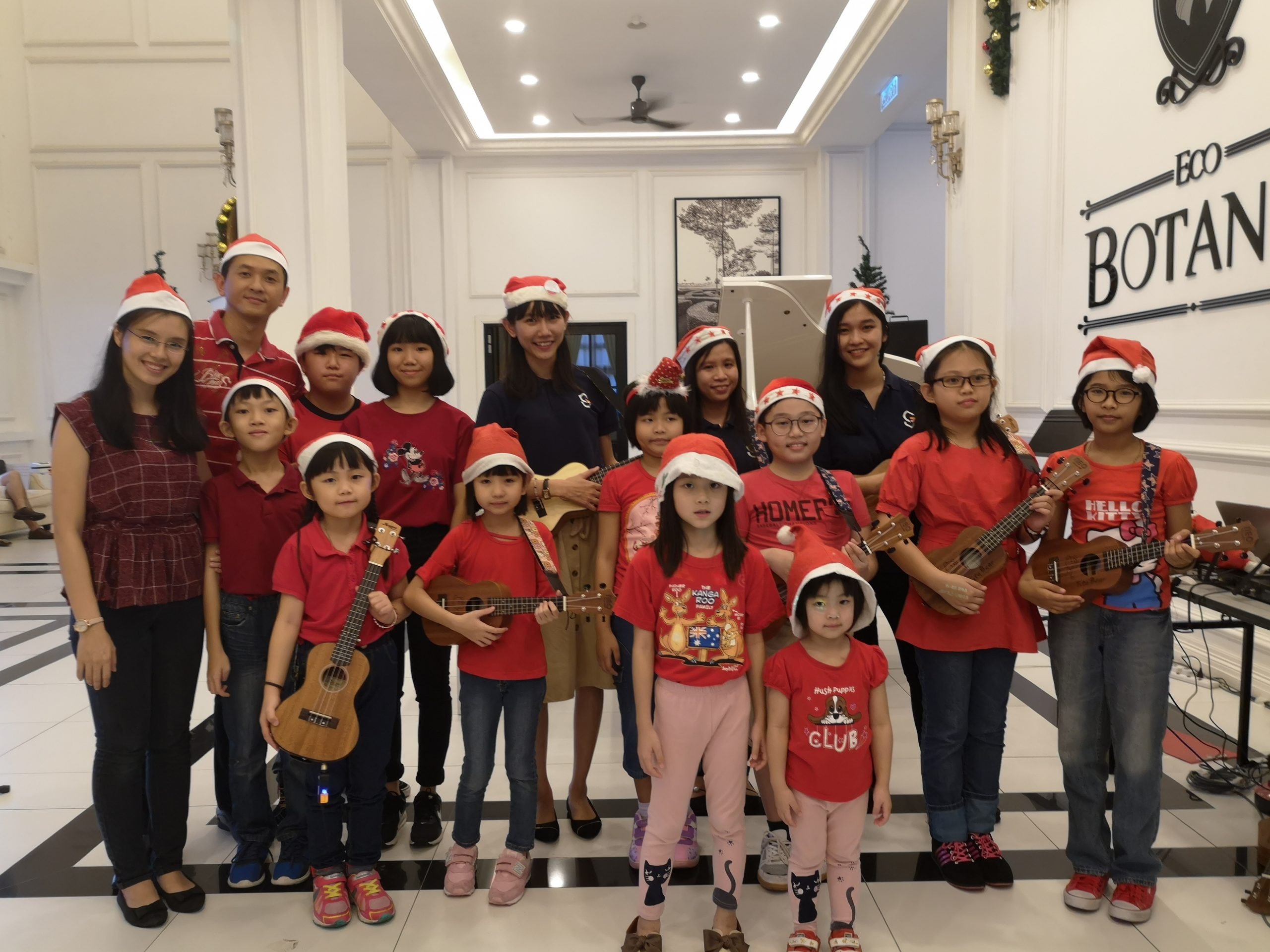 Eco Botanic Christmas Concert in Iskandar Puteri, Johor Bahru
"Jingle Bell, Jingle Bell" Ukubear Ukulele organised various kinds of celebration events with children. This is giving a chance for children to perform on stage. Furthermore, parents also can watch and enjoy their children's performances. By using festival vibes, children and parents were able to enjoy performance meanwhile can celebrate festival together to increase bonding.
Benefits of Ukubear Christmas Concert:
1. Inspiring Children with International Ukulele Performance
The creative communication with the teachers stimulates children's interest in Ukulele lessons. The performance impresses the children as loyal music lovers. Parents stop worrying about their children to easily give up their ukulele learning after attending the concert.
2. Motivate Children in Music Learning
Children can learn to play the ukulele with higher intention after celebrating the Christmas concert. This is because the children feel the significance of the Ukubear ukulele course for their development, in which the performance increases children's professionalism in ukulele learning.
3. Increase Personal Self-Esteem
According to the Ukubear teachers, the Ukulele Festival increases personal self-esteem of the children, especially the kindergarten and primary school children. The children are looking forward to become the professional musicians in the future after attending the concert. This promotes the realisation of children's abilities, and increases their personal self-esteem.
In fact, parents are encouraged to nurture the children by building children's interests such as ukulele music. Ukubear Ukulele is opening a limited FREE Ukulele class for children now.
Complete the registration of Ukubear ukulele class below:-
Ukubear Ukulele Eco Botanic, Ukubear Ukulele Medini Kota Iskandar, Ukubear Ukulele Medini Iskandar, Ukubear Ukulele Iskandar Puteri, Ukubear Ukulele Nusajaya, Ukubear Ukulele Bukit Indah, Ukubear Ukulele Johor Bahru, Ukubear Ukulele Perling, Ukubear Ukulele Skudai, Ukubear Ukulele Mutiara Rini, Ukubear Ukulele Molek, Ukubear Ukulele Mount Austin, Ukubear Ukulele Setia Indah, Ukubear Ukulele Masai, Ukubear Ukulele Setia Tropika